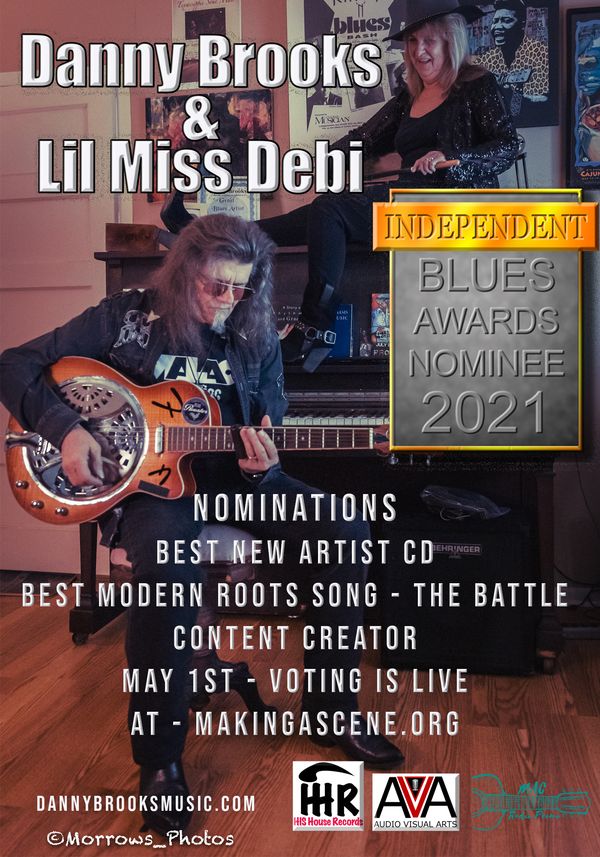 Thank you for supporting live music and the artists who travel far and wide to bring you their art! We hope that you will take that support one step further...vote!
To make your voice heard, just click the picture and it will deliver you to the voting page...thank you!
Without y'all we would just be singing in the shower...
Lil Miss Debi here, I wanted to take a minute to talk about the video "Jesus Had The Blues" and the making of "Are You Ready? The Mississippi Sessions".  This cd was a true labor of love and for me, a real stretching out of my comfort zone! I definitely gave blood, sweat and tears into this project and am so blessed to be able to have done this with my amazing partner in life and music, Danny Brooks.  
 
Some songs seem to speak to me more than others, as I am sure y'all have experienced the same yourselves.  Since the moment of conception this has been a special song!  Once it was recorded and mixed it kept calling me back to it, time and time again!  The urge to portray it visually wouldn't leave me!  I wanted to show the pain, and emptiness along with the loss of human compassion that Jesus must see when He looks down on His children!  As a mother, I know the tears I have shed over my children, when they hurt, so do I! How much more so must our Heavenly Father!
Searching for the visual images was very difficult for me emotionally, because I was wanting to show hurting souls, victims and abusers. In order to do that I had to watch videos and then edit to show in a few seconds, the emotion of that moment in time.  A lot of tears were shed in creating this video.  When I think of a particular piece, the tears come once again!  
 
It is time to come together, to learn to love one another as we love ourselves! It is time to forgive and forget!  I know it is difficult to watch, but if for no other reason than to lift your voice of prayers and healing for the victims, please try...
Surely... Jesus had the blues 
Are You Ready? The Mississippi Sessions
Blues With A Feeling - Maple Blues Nomination
Miracles for Breakfast: The Journey
Where Will You Stand - Live Performance Video
Danny Brooks Nominated for 2016 Maple Blues "Blues with a Feeling" Lifetime Achievement Award
Teaser - Hard Working Man Documentary
The Documentary "Hard Working Man: The Music and Miracles of Danny Brooks"
Texassippi Soul Man Danny Brooks & Lil Miss Debi are Singing the Green Card Blues