Good Love is Hard to Find
Lil Miss Debi and Danny Brooks are thrilled that their song "Good Love is Hard to Find" just got placed on NBC's Young Rock. Airing May 10, 2022.
On April 23rd Danny Brooks & LIl  Miss Debi performed at the Music Room Studio & Listening Room, and house producer/engineer Randy Tredway did a great job in getting a great sound. We so look forward to coming back!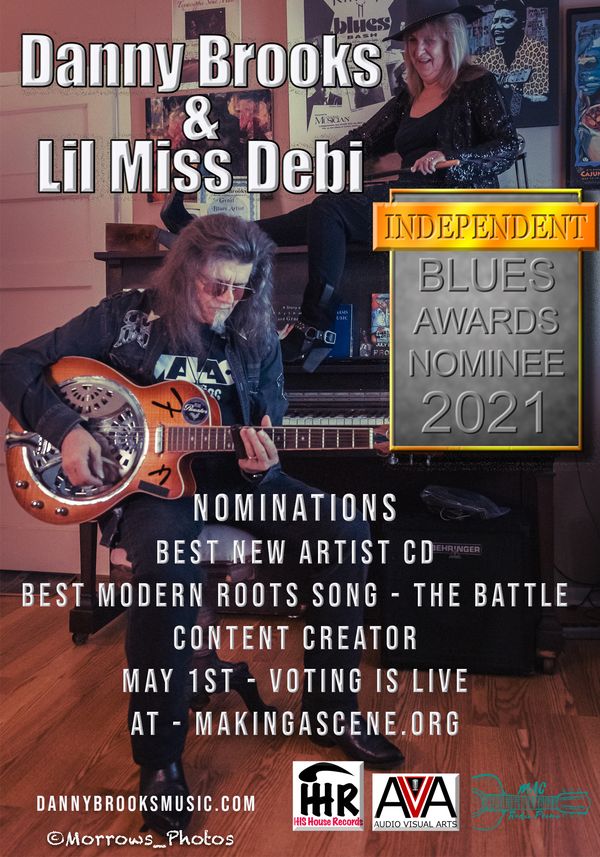 Thank you for supporting live music and the artists who travel far and wide to bring you their art! We hope that you will take that support one step further...vote!
To make your voice heard, just click the picture and it will deliver you to the voting page...thank you!
Without y'all we would just be singing in the shower...
Lil Miss Debi here, I wanted to take a minute to talk about the video "Jesus Had The Blues" and the making of "Are You Ready? The Mississippi Sessions".  This cd was a true labor of love and for me, a real stretching out of my comfort zone! I definitely gave blood, sweat and tears into this project and am so blessed to be able to have done this with my amazing partner in life and music, Danny Brooks.  
 
Blues With A Feeling - Maple Blues Nomination
Miracles for Breakfast: The Journey
Where Will You Stand - Live Performance Video
Danny Brooks Nominated for 2016 Maple Blues "Blues with a Feeling" Lifetime Achievement Award
Teaser - Hard Working Man Documentary
The Documentary "Hard Working Man: The Music and Miracles of Danny Brooks"
Texassippi Soul Man Danny Brooks & Lil Miss Debi are Singing the Green Card Blues