HIS House Records is happy to announce the nomination of Danny Brooks for "Lifetime Achievement Blues With A Feeling," a Maple Blues Award.  Winners will be announced on February 12, 2024 at the Phoenix Concert Theatre. 

All the best to the amazing Artists who have been nominated. It is an honor to be recognized.

Voting here: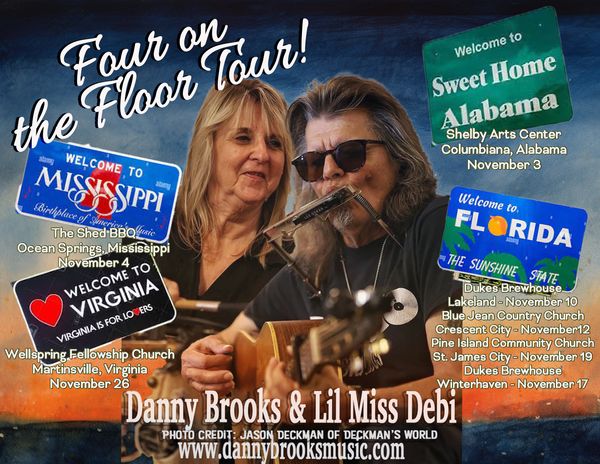 Song Plugging at it's Finest!
Crucial Music out of Studio City California represents 35 of our songs to film/television/commercials, and have placed our music on various shows aired on ABC, NBC, FOX, EPIX, NETFLIX and AMAZON.  Most recently Crucial has pitched 3 of our songs to a upcoming Marvel movie…
Miracles for Breakfast: Supernatural Thinking
When the idea to write Supernatural Thinking first came to me, I was elated with such a fascinating subject, but when the reality of the task set in, I was intimidated by it. I did not feel qualified to write on such a subject and then reasoned, who really is? In my feelings of inadequacy, I was reminded in my spirit that God has chosen the foolish things of the world to put to shame the wise, and God has chosen the weak things of the world to put to shame the things which are mighty. (1st Corinthians 1:27 NKJV)
I felt it was God dealing with me and this encouraged me to go forward, although there were some wrestling matches along the way. I believe the biggest component that urged me on was this: If someone of my stature can write a book about this, then it can be effective to all who read it. I do not have a university education or any degree. I am a simple man who writes songs, records them and has written a few books. That said I have studied many of the great motivational authors and the greatest self help book ever; the Holy Bible. In my zeal to overcome my addictions to drugs and alcohol, I developed a burning desire to improve my lot in life and this desire helped me develop a successful comeback and now 36 years clean with no relapses. At very least I believe this qualifies me to share my thoughts and techniques on how anyone can overcome failure/addictions and get back on a winning track in life, full of joy and peace of mind.

Debi and I are thrilled and humbled that this book has been endorsed by my all time favorite motivational author/speaker Denis Waitley whose book Seeds of Greatness was very instrumental in turning my life around. My ideas and thoughts have been shaped by men and women who are more qualified than I am, but I believe my 36 years success of staying clean, musical accomplishments, studying on the subject of the power of Positive Thinking and the power of almighty God guiding me as I wrote Miracles for Breakfast: Supernatural Thinking, has qualified me to write on such weighty matters. The writing of this book proves that with God all things are possible and that as inadequate as we can all feel from time to time, we can do the impossible and think and live Supernaturally.
In this book are many explosive ideas to help you achieve your goals and dreams, but if I was to single out one factor that totally blows my mind in the writing of this book, it is this: while my intention was to open up the minds of the reader to think and live Supernaturally, God tells us through His Son Jesus in John 14:12 NKJV: "Most assuredly, I say to you, he who believes in Me, the works I do he will do also; and greater works than these he will do, because I go to My Father."  Read this whole chapter, but in verse 26 Jesus states "But the Helper, the Holy Spirit, whom the Father will send in My name, He will teach you all things, and bring to your remembrance all things that I said to you."
When I pondered the far reaching implications of this, it blew my mind! Now let's put this in the context of God saying in Genesis 1:26: Then God said, "Let Us make man in our image, according to Our likeness"......and then in verse 27: "So God created man in His own image; in the image of God He created him; male and female He created them."
First, Jesus is not only telling us that we (you and I) will do greater things than He did, He underscores it by saying "most assuredly!" God tells us "Let Us make man in our image.…While we cannot attain to the level of God as His ways and thoughts are much higher than ours", He is clearly stating that we possess attributes of the Holy Trinity. Now let's look at Proverbs 3:5,6: "Trust in the Lord with all your heart, and lean not on your own understanding; (6) In all your ways acknowledge Him, and He shall direct your paths."

God is challenging you and I to think and live Supernaturally. We are made in His image and I take that to mean not only in appearance but in how we think! Jesus says we will do greater things than He did, and I will take Him at His word. God challenges us to "lean not on our own understanding but in the Supernatural power of the living God!"
It is my belief that God gave me this book to write to show myself and others how to think and live Supernaturally. Debi and I have been greatly blessed in practicing "calling the things that are not as though they were," as God states in His word. You too can be blessed and we pray God's Supernatural blessings over you!
Initially, Debi and I felt the only way we would be able to publish this book would be by setting up a GoFundMe fundraiser.  After our first campaign to ask for support we found ourselves being emotionally being led in a different direction.  After much prayer and thought, it is our belief that we are to go on Faith, trusting God to bring HIS book to fruition!  We are stopping the fund raising campaign, and will now go forward with "Orders".  Any donations received on our GoFundMe will be honored (autographed copies).
If you would like to order a copy of Danny Brooks' "Miracles for Breakfast:  Supernatural Thinking" for yourself or for someone who you feel would benefit (really we all can benefit) from reading this book, please click the link below to take you to Lil Miss Debi's Shopping Emporium to place your order.  All orders from our shop will be posted with a personal message from Danny Brooks.  To purchase in e-book format click here:  Miracles for Breakfast: Supernatural Thinking 
Thank you supporting God's work.  We appreciate you and pray blessings over you, in Jesus' name!