IN MEMORY OF FRANK GARCIA: November 27th., 1954 to September 22nd., 2014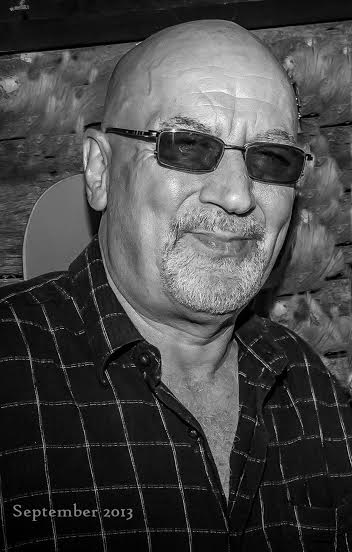 It's still hard to believe he's gone, a reminder of not taking a day for granted. We are not promised tomorrow so do what you can today in everything. Frank was a great friend and not afraid to speak his mind. Whenever I had written a new tune, Frank was one to the first to hear it outside of Debi. He would always put in his opinion and when he did I knew it was for the better. Every tune on our new recording Frank heard, and encouraged me. Frank even changed the title of the upcoming CD from 'Life On The Blue Highway' that I had originally picked to 'This World Is Not Your Friend'. He said the latter was a bolder statement and that it was the truth. Frank had a keen understanding for many musical art forms and had a broader sense than most of what the 'Blues' was. Kind of like, was 'Hank Williams' a country singer or was he blues. With Frank, and I concur he was both, but primarily blues. When songs get down to the meat of a matter; gettin' way down, that's blues. We had long chats about music, life in general, we prayed and apart from sharing close personal view points, Frank not only encouraged Debi and I to do this stripped down recording, he was probably the key in Debi getting involved and evolving to where she is today musically. He brought us into the 21st century electronically as well through the websites he designed for us; web commerce, mining the web as he called it to get gigs and line up tours. There will never be another Frank but God gave us enough of Frank's encouragement to last and I will always hear his voice of encouragement when needed. Thank you Frank and I know you are being taken good care of in heaven and we look forward to seeing you again!
LivinBlues Kards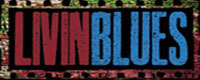 LIVINBLUES Greeting Kards now available online. Our products are for people who love music and Blues culture.
Great for any occasion and all kards are 5x7, printed on 100lb card stock with envelopes included. Browse LIVINBLUES online galleries at www.livinblues.com and select from 18 designs in full color.
Say it with the Blues!

These kards are the perfect kard to send to blues fans, or to frame and hang!
To see inside of LivinBlues kard, click the image. To purchase, click the kard!
For custom orders contact
John Frank
GALLERY A - GREETING KARDS
Click on thumbnails to view kard front/inside and back and browse designs
GALLERY B - CANVAS PRINTS
Click on thumbnails to view canvas print gallery.
LivinBlues Canvas Prints are full color 8x10 canvas, stretched on 3/4" wooden bars with full bleed black around the edges ready to display. All canvas prints are laminated on the front with a protective mute vinyl coat that is washable and prevents fading. Available individually or multiple designs.

Danny Brooks posing with his Muddy Waters canvas from LivinBlues